Chef Paul Askew, Chef Patron of Liverpool's award-winning Art School Restaurant, and finalist of  The Great British Menu, celebrates his favourite seasonal ingredient,  sourced from his local artisan supplier, Wirral Watercress. You can read all about his supplier Peter Jones here
7 Watercress tips by Chef Paul Askew
Watercress needs humidity, so it's usually best to keep it in a sealed bag to retain its moisture. In the restaurant, however, we tend to find it stores better in water; we simply wash and dry it before adding it to our salads and starters.
You can use the white flowers of watercress, as well as the leaves. They really help to bring the dish alive and add a different layer of flavour, as well as being visually stunning.
Watercress already has a deliciously strong, peppery taste, so you don't need to add many other ingredients which makes preparation really simple. Just drizzle it with a good olive or rapeseed oil, Chardonnay vinegar and a pinch of Malden salt.
There are quite a few main ingredients that work particularly well with watercress. A slice of crispy bacon on top is utterly delicious; we use Southport pork pancetta in the restaurant, and it's always very popular.
We also use watercress in our Spring and Summer menu as a chilled amuse bouche. To do this, we whip up a classic soup of new season leeks and Jersey Royal potatoes, then at the last minute we add fresh parsley and watercress and give it a blitz. It adds a real depth of flavour and an incredible bright green colour.
One of our favourite dishes at Art School Restaurant, which we serve as a Spring starter, is Fillet of Menai Mackerel with Blood Orange Dressing and Herb-Infused Goats Curd, which also features a balancing watercress puree. Try it for yourself! See my recipe below.
Watercress can also make a fantastic pesto to enjoy with pasta or on fresh salmon as a herb crust; simply give it a blitz it with some fresh garlic and a good olive oil.
Since restaurant lock-down Peter Jones, of Wirral Watercress is supplying local farm shops and mail order. www.wirralwatercress.co.uk
Paul adds "I am so looking forward to getting back behind my stove at The Art School, and cooking with my brigade again once conditions allow. We will be adapting our service to ensure the safety of our employees and customers, whilst adding some extra special touches to further enhance the customer experience, celebrating the best of British seasonal produce'.
Gift To Share
If you'd like to experience the unique menu at the Art School Restaurant once restrictions are lifted, you can purchase the special 'Gift To Share' monetary certificates through GourmetXperiences, which is working hard to support chefs and restaurants throughout the lockdown. Each purchase donates 10% of all net sales to industry Charity Hospitality Action, and provides 100% of support to participating restaurants. All purchasers will also benefit from a regular feed of exclusive content sent to your inbox to help  you plan your post-lock-down gourmet lifestyle.
Read about watercress supplier Peter Jones, and Chef Paul's passions for fresh regional ingredients here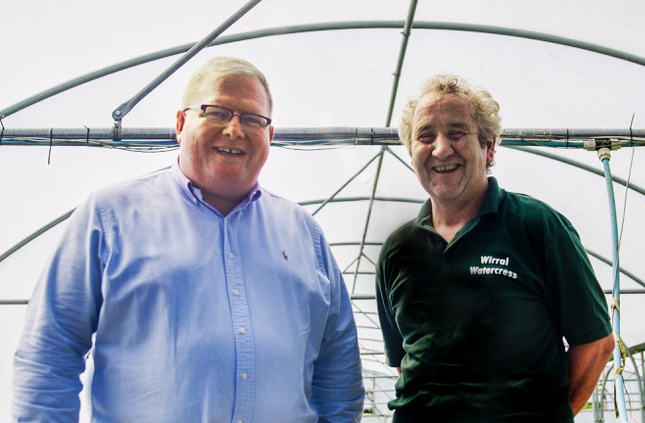 Recipe: Fillet of Menai Mackerel, Blood Orange Dressing & Herb Infused Goats Curd
Selected from Paul's latest book 'Onwards & Upwards' See below.
Skill Level: Chef
Serves 4. Starter size.
Mackerel

2 Fillets of Menai mackerel (Anglesey) cut into half and
pin-boned
2-3 medium golden beetroot, peeled and 2.5 cm cubed dice 3 cubes per plate. These are blanched in saffron and vegetable stock to enhance the colour and flavour
Fish seasoning
1 sheet of silicone paper for grilling
Splash of vegetable oil
Method:
It is very important that we retain the lovely shine and colour of this fish. Therefore we grill it on some oiled silicone paper skin-side down
The skin is seasoned with a little salt, however, the flesh side will be seasoned using the fish seasoning in the glossary section
Place under grill for 2 minutes before removing from heat
Goats Curd

Curthwaite goat's curd
Lemon zest and juice
Bunch of chives
Method:
Into a bowl, combine all of the ingredients, and mix them together until it is smooth
This will ensure consistency for when it is piped
Adjust the seasoning and put into a piping bag with a nozzle ready for plating
Watercress Puree

150 g Local watercress
2.3g Maldon salt
0.23g Xantham gum
Iced water
Fresh ground black pepper to taste
Method:
Blanch watercress in boiling salted water for 30 seconds
Place straight into iced water. Drain and dry when cool
Add to a Thermomix (or domestic mixer) and puree with pepper, salt and xantham gum
Place in a squeezy bottle and chill to serve
Blood Orange Dressing

1 blood orange – half squeezed for juice and half filleted for garnish
1 banana shallot peeled and finely diced
1 tsp whole grain mustard
Splash of white wine vinegar
Pinch of sugar
Maldon salt
Pepper
20ml extra virgin olive oil
Method:
Add all of your ingredients to a bowl except the oil and the orange, and then mix them together
Slowly add the oil, continuously whisking it until it combines and creates an emulsion
Add the juice of the orange and the small orange fillets at the end
Salad

Picked seasonal watercress
Frisée
Radish
Sweet red onion – thinly sliced
Sunflower shoots
Method:
The most important thing to us is that you use seasonal leaves that give different flavours, textures and preferably colours
This will give the salad an extra depth, both visually and to taste. In this case we have used watercress for a pepper taste, Frisée for bitterness
Use sweet red onions for savoury notes, sunflower shoots for some sweetness and radish for crunch. This will balance out the flavours and the textures of the dish. Vinaigrette will bring all the components together by adding acidity
Plate as seen in the picture above (or as close as you can get it!)
OR better still, when they re-open book a table at the Art School Restaurant, and see how they do it, if in season!
Signed personalised book.
Order Paul Askew's latest hard backed cook book 'Onwards & Upwards' and he will sign and personalise it. Order here
20% of sales are donated to the #GiftToShareExperiences campaign in support of Hospitality Action. 
Hungry for more news on supporting GREATEST BRITISH Chefs, venues, cookery schools & producers?
Sign up to our regular feed of news here
All sign ups entered int our monthly prize draw, including a signed copy of Paul's latest book. RRP £29