Greatest British Cookery Schools
The GREATEST BRITISH Cookery School Collection, only select those cookery school destinations who create and deliver a unique, immersive and memorable 'GourmetXperiences' with a focus on excellence in leanring, underpinned by practicing and promoting sustainability, seasonal ingredients and fresh, British produce.
Cookery School GourmetXperiences make unique gifts for aspiring gourmands who are seeking a memorable event for themselves or their loved ones.
Select your preferred school below, and purchase a unique Cookery School GourmetXperience monetary certificates accepted at all venues, subject to change. Or, where listed you can purchase a bespoke 'GourmetXperience' as a gift. You can purchase from any link above direct.
Purchase Cookery School Monetary Gifts Certificates Here.
Redeemable at all our participating Cookery Schools and Greatest British Cookery Courses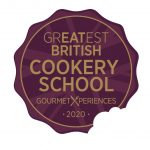 Showing all 20 results