Cyrus Todiwala OBE Tasting Menu eXperience. SOLD OUT!
£70.00
Cyrus Todiwala OBE shares his passions for delicate authentic spices and sustainable British produce throughout this specially prepared tasting menu eXperience, hosted at his 'Cafe Spice Namaste' Restaurant in the fashionable east end of London.
Your dining eXperience includes:
Welcome glass of pomegranate Bellini (bubbly with pomegranate syrup).
Tasting Menu eXperience: Daily menu created to offer a balance of tastes and textures to keep your interest going. Dishes are not a fixed number – they serve a balanced menu, until you are full! This menu could be stretched by you to last a good two hours of easy dining. A journey through flavours from Cyrus' India which have influenced his award winning cooking.  

A selection of mini plates encompassing their regular menu as well as daily specials. 

eXclusive spice selection to take home.
GourmetXclusive
eXclusive selection of Mr Todiwala's Spice blend for professional cooking at home .
Choose Five from:  Star Anise,  Black Cardamom, Green Cardamom, Whole Kashmiri Chilli, Cassia Bark, Cinnamon Stick, Nigella Seeds, Coriander Powder, Coriander Seeds, Kashmiri Chilli Powder, Turmeric, Black Mustard Seeds, Mace Blades, Cumin Seeds, Cumin Powder, Cloves, Carom, Jaggery (50g), Black Salt, Dry Mango Powder, Cokum Barberries, Green Raisins or White Poppy Seeds. Total Added Value Gifts Worth £10 Per Person OR a signed copy of his latest book between TWO RRP £20!
A percentage of this GourmetXperience donated to the Rare Breeds Survival Trust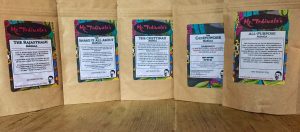 Expiry Date: 30/03/2018
T&C's beyond standard
Dining from their tasting menu is for the entire table. From two to six people. You are purchasing ONE certificate for one person. Thursday-Saturdays – Available until 8:30pm.
Café Spice Namasté, (Meaning 'A Warm hello' In Hindi) now in its 22nd year in a location filled with all the history and vibrancy that makes London so special today. Chef Patron Cyrus Todiwala and team take care to prepare quality food using the best sustainable British ingredients. The food is innovative, at heart it is honest to goodness Indian home-cooking that inspires. Being the UK's most 'ethical-sourcing' restaurant, the produce and ingredients they purchase are among the best and predominantly British.
As a patron of both The British Lop Pig Society & The Rare Breed Survival Trust, an Ambassador of both British Lamb and Scottish Food & Drink,
and member of the Scottish Beef Club, they source meats from tiny farms dotted across the UK.
Namasté! – Cyrus & Pervin Todiwala.
SEE THE VENUE