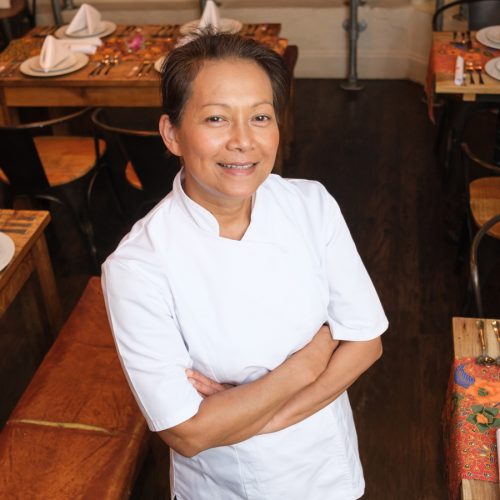 Chef Suree Coates has a real passion for food.
Awarded Thai Curry Chef of the Year 2011/12, and South Asia Chef of The Year 2013/14. The Waitrose Good Food Guide highlighted Chef Suree's much acclaimed restaurant 'The King and Thai' Midlands Restaurant of The Year in 2016, and a 'Hidden Gem' two consecutive years running.  Her loyal customers continuously praise her creative Thai cuisine as 'Excellent' on review websites, and you can also often see Suree on stage at the regions food festivals to packed crowds who delight in her simple but deeply flavoured creations, using local seasonal ingredients with depth of flavour and freshness.
Chef Suree has recently embarked on a new venture.  'Suree's Kitchen' at No.9, The White Hart, Wharfage in Ironbridge. Overlooking the river Severn within the grounds of the popular AA Rosette 'White Hart Bar & Restaurant'. This is a return for Chef Suree, who opened her first permanent restaurant 'The King & Thai' located right opposite the World Heritage listed famous 'Iron Bridge' over 15 years ago. She then located 'up the road' to The King & Thai Broseley, earning it a National reputation for award winning cuisine. No longer at the King & Thai she now returns to her roots, to bring her innovations back to this intimate location.
Menus: Accessible, innovative and exploratory dishes. Returning to her customers favourites with new seasonal innovations. Accessible dining in this bijoux location. Menus incorporating the flavours of the Thai regions, underpinned with quality seasonal local ingredients and authentic fresh herbs and hand ground spices to challenge the palate and lift the senses.
Surees Kitchen Sample Spring Menu 2019
Opening Hours Thursday – Saturday from 6 pm till 8.30 pm
Saturday lunch from 1 till 3.30 pm. Plus private booking requests
The White Hart Inn. No.9 Wharfeage, Ironbridge
Tel: 01952 43 29 64 / 07468 53 64 38