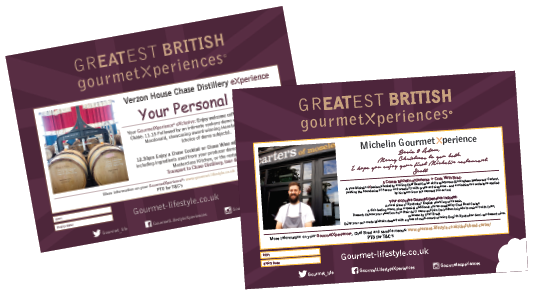 "Eating isn't just about food. It is about where your food is from, how it's cooked, where you eat it and the people you're eating with. These are the ingredients that create the experiences we remember." James Day, Founder of GourmetXperiences.
This is the philosophy that has led the hospitality and marketing experts at Greatest British to create Gourmet Experiences, a unique collection of memorable gourmet gifts and dining experiences.
Each wonderful GourmetXperience celebrates the best of British cuisine, whether it's from outstanding chefs, pioneering cookery schools or independent artisan food producers.
From exclusive chef experiences at Michelin-accredited venues, interactive pop-ups by chefs of distinction, experimental dining experiences, or the chance to discover rising new stars, GourmetXperiences transforms a great meal into an unforgettable experience. Whether you're looking to hone your skills, treat yourself or spoil someone else, we have the perfect gourmet gift for you.
GourmetXperiences is supported by some of the country's leading hospitality figures and charities, with contributions from Raymond Blanc OBE, Cyrus Todiwala OBE, Michael Caines MBE,  Shaun Rankin, Brad Carter and ICSA-accredited cookery schools including Jean-Christophe Novelli, Michel Roux Jnr and Leiths School of Food & Wine.

The Ultimate Gourmet Gift Guide
Each contributing chef, venue and cookery school is featured in our Gourmet Xperiences Guide here which is available free (normally worth £15) with any GourmetXperience or gift voucher over £100.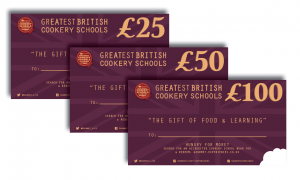 Cookery School Gift Certificates
We work with the 25 Independent Cookery Schools Association (ICSA) cookery schools across the country – bringing you the opportunity to learn new skills that will stay with the recipient forever. You can purchase dedicated Gift Certificates here.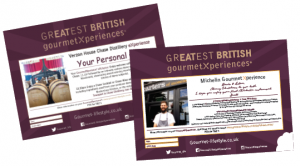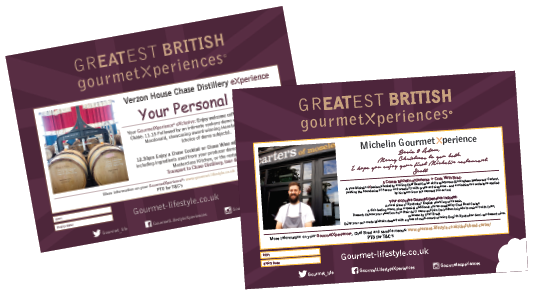 Gourmet Gift Search
"With our easy-to-navigate sections, we hope to encourage people to dine out and try new places, new British products and new British GourmetXperiences. Sharing along the way with others on how they can help improve and support Great British producers."
Printed Guide: Greatest British GourmetXperiences
This premium hard copy printed guide is backed by big names including Michelin-starred chef and Love British Food ambassador Raymond Blanc OBE, Michael Caines MBE, Cyrus Todiwala OBE, TV Chefs Shaun Rankin, Adam Simmonds, Brad Carter to name a few and endorsed by cookery school co-founder and Great British Bake Off judge Prue Leith CBE. Available to purchase here.