Celebrate the 'Noble Gras' during Asparagus Season.
(See our Asparagus cooking 'tips' and chefs recipes and book competition below.)
There may not be much to celebrate in the world of food at the moment – apart from its continued availability, which is something to be incredibly grateful for. But as we move into the last weeks of Spring, there is one ray of hope on the culinary calendar; asparagus season. Evesham in Worcestershire is home to the official 'Asparagus Festival' and is celebrated annually at the foot of their cathedral (pictured) with a series of events.
There's something about asparagus that brings understated elegance to any plate; a simple supper of soft-boiled eggs with a buttered slices of crusty bread and a few crisp, chargrilled stalks, drizzled in olive oil and scattered with shavings of sharp parmesan or pecorino, is the stuff of magic. It was certainly good enough for Julia Roberts in Eat, Pray, Love…
Yet its versatility as a meal ingredient is often under-explored; there are so many things you can do with asparagus, apart from its traditional position on the side of something else.
Enjoy it cold in a salad to add a little bite, toss it into a lemony bowl of pasta, arrange it artfully on a quiche or scatter it over an oozy risotto, and you'll get a delightful taste of Spring that few other vegetables can provide.
Although asparagus was little noted in Europe until the 16th century, its roots go back far deeper. In ancient times, it was used as a vegetable, a diuretic and even an aphrodisiac.
Consumed by the Greeks and Romans, the mighty Roman Emperor Augustus even created an 'Asparagus Fleet' to transport the vegetable from field to table more efficiently, while the Greek physician Galen acknowledged its beneficial medicinal properties.
Today, this humble vegetable is enjoyed around the world, with China, the US, Peru, Mexico and Europe being the largest asparagus producers. The UK itself is the largest producer in Northern Europe, with Worcestershire's verdant Vale of Evesham at its centre. In fact, so intertwined is asparagus with the region's culture that Worcestershire holds an annual British Asparagus Festival, as well as an eagerly-anticipated 'Asparagus Run'. Though sadly both on-hold this COVID-19 year!
The earthy, muted colour palette of asparagus also provides a clue to its origin; British and American asparagus varieties are green, while French is purple and Spanish is white, due to being grown beneath the soil.
Aside from pepping up your Spring menu, asparagus is also packed with nutrients, making it one of the healthiest foods you can eat. It contains fibre and vitamins A, C, E and K, as well as calcium, potassium, selenium and iron. With 93% of asparagus being made up of water, it's also incredibly low in calories and sodium.
Official day of asparagus launch is St George;s Day, April 23rd, to its unofficial season end of Mid-summers Day, June 21st, but with changing seasons and climate these dates are as flexible, and unpredictable as our weather. May to July is considered to be optimum asparagus season; so how best to buy, store, cook and enjoy it?
Look for perky tips and firm, straight stalks. Our chefs recommend storing your spears in a jug of cold water in the fridge, and to prep it, simply bend the spear until it snaps and throw away the 'woody' end.
Below are some cooking asparagus 'tips' from our friends at the Asparagus Festival held in Evesham every year from April 23rd.
How to Blanch (or Boil) Asparagus
Blanching, or briefly submerging vegetables in boiling salted water, can be a wonderful way to cook asparagus. By cooking asparagus quickly in truly boiling water and then fully chilling it in ice water, you can "set" the green colour. Bring a large pot of salted water to a boil, drop asparagus in and cook until just tender, anywhere from 1 to 4 minutes depending on thickness. Drain and put asparagus in ice water until fully cool. Remove asparagus from ice water and pat dry. Then they are ready for service.
Asparagus Cooking Tips
How to Grill Asparagus
Grilling asparagus is a great way to preserve its grassy flavour—and introduce a smoky edge in the process. Simple toss trimmed or peeled asparagus spears with a bit of vegetable oil and put them on a hot grill. Cook, turning to brown evenly, until tender, about 10 minutes total. Sprinkle with salt and/or lemon juice and serve hot or at room temperature.
How to Microwave Asparagus
Microwaving asparagus cooks them in a way similar to steaming. To Microwave asparagus: Set asparagus in a microwave-safe baking dish, add 2 tablespoons of water, cover, and microwave on high setting until tender, which should take about 2 to 3 minutes. Leave standing and covered for about 3 minutes and they will be ready to eat.
How to Pan-Roast Asparagus
Pan roasting is a combination of steaming and sautéing and gives you the browned edges of grilled or roasted asparagus without the hassle of heating up a grill or oven. Heat some cooking oil or butter in a large frying pan over high heat. Add asparagus, cover, and cook, shaking the pan now and again, until asparagus is browned and tender, should take about 10 minutes.
How to Roast Asparagus
Turn on oven, put asparagus in oven, cook until brown and tender. Seriously, it pretty much is just that easy. Just add a bit of cooking oil to the asparagus to keep it from drying out in the oven. Sprinkle with salt and maybe a squirt of lemon juice before serving and enjoy.
How to Sauté Asparagus
Cooking asparagus over high heat while stirring often leads to tender, bright green bites. This method works best with asparagus that has first been cut into 1- to 2-inch lengths. Heat a large frying pan over a high heat, add cooking oil or butter and asparagus and cook, stirring, until the asparagus is tender, usually taking about 5 minutes depending on how thick the spears are.
How to Steam Asparagus
Asparagus is usually steamed as whole stalks, but it can be steamed cut into bite-size pieces, if you like. Whether you steam it whole or chopped, place asparagus in a steamer rack and set over boiling water. Cover and cook until asparagus is tender, 4 to 8 minutes depending on the thickness of the asparagus stalks.
How to Stir-Fry Asparagus
Stir-frying brings out the nutty edge of asparagus' grassy flavour. Cut asparagus into 1- to 2-inch lengths. Heat a wok or large frying pan over a high heat, add cooking oil and when it is hot enough to shimmer toss in the asparagus. Cook, stirring pretty much constantly until asparagus is tender and browned on the edges, 3 to 5 minutes depending on thickness of asparagus. If you want to include garlic, green onions, ginger, or other aromatics, add them right before adding the asparagus and let them sizzle for just a minute before tossing in the asparagus.
We hope we've inspired you to bring this delicious vegetable into your lockdown menu, but if you'd like a few more ideas, we've put together our favourite recipes below:
Asparagus Recipes
Searching for more recipes from top Chefs?
Visit our partners at Signature Chefs Recipe Books and try their recipe asparagus search results here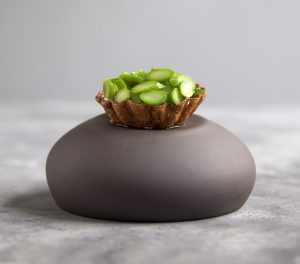 Asparagus, Crayfish, Sorrel
by Chef James Sherwin of Wild Shropshire Restaurant
As featured in his debut cook book 'Wild Shropshire'
Ingredients (serves 4)
250g crayfish (frozen, uncooked, intact in shells)
200g vegetable oil
100ml chicken stock
50g sorrel leaves
Ultratex to thicken (use as much as is needed)
100g unsalted butter
50g flour
1 whole egg
1 bunch asparagus
2 egg yolks
20ml white wine vinegar
20ml leek oil
Sea salt
Specialist equipment
Water bath
Individual tart tins
Method
1. Using a heavy knife spilt the crayfish in two at the point where the head meets the body.
2. Using scissors, cut the shell away from the tail meat. Refrigerate the tail meat.
3. Put the tail shells and half the heads into a large pan. Cover with water and bring to the boil. Once boiling, turn the heat down and simmer for 1 hour.
4. Remove the shells, turn the heat up and reduce the stock by 90%.
5. Add the remaining heads to a pan with the oil and fry for 15 mins. Strain the oil through a fine sieve lined with a muslin cloth and leave to cool down.
6. Heat the water bath to 62°C. Vacuum pack the tail meat and cook for 30 mins. When done, plunge the cooked tails into ice water to cool.
7. Blend the chicken stock and sorrel leaves in a high-powered blender. Strain through a fine sieve. Whisk in as much Ultratex as you need to thicken to a ketchup consistency.
8. Heat the butter in a pan until it becomes brown butter (it will smell nutty and be golden brown).
9. Preheat the oven to 150°C. Weigh the reduced crayfish stock, add water until it weighs 200g, season with salt. In a bowl mix the flour, 1 egg, the reduced crayfish stock/water mix and whisk until you get a batter consistency.
10. Heat a pan, add a little of the batter to make a thin pancake. Once cooked, place the pancake into a tart tin and place another tart tin on top to weigh down the pancake. Trim the edges of excess pancake. Bake for 25 mins and remove from tart tins.
11. Boil a kettle, while it is boiling trim off the asparagus scales with a small knife. Put the asparagus into a bowl and pour the boiling water over them so that they're completely submerged. Count to ten and remove the asparagus, placing immediately into ice water.
12. Place the egg yolks and vinegar into a high-powered blender, blend on high while slowly adding the crayfish oil and brown butter until you get a mayonnaise.
13. In the bottom of the tart case put a small amount of the sorrel ketchup, add a quarter of the crayfish tails on top, then a small spoon of the mayonnaise.
14. Cut the asparagus thinly at a 45º angle, dress in the leek oil and salt. Spoon onto the top of the tart.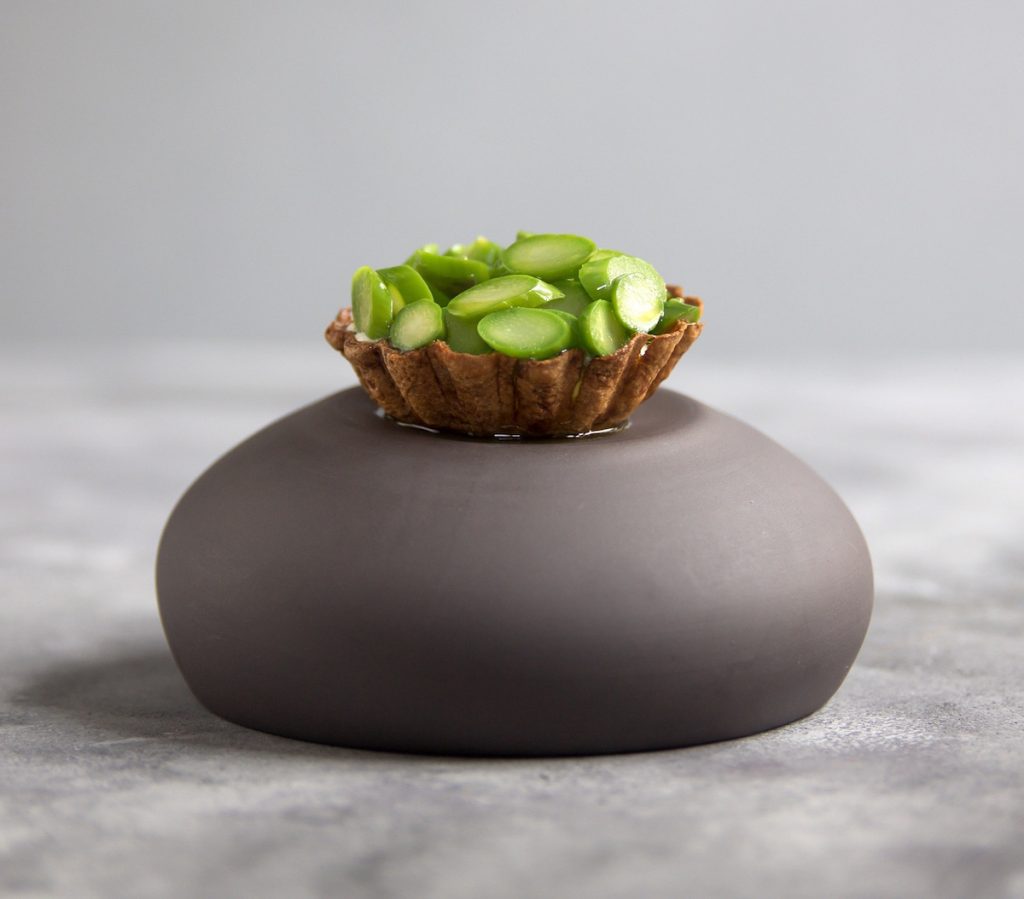 WIN An Exclusive GourmetXperience at 'Wild Shropshire Restaurant' Shropshire.
Chef James Sherwin has spent the last two years homing his 'wild cooking' chef skills and converting his first restaurant in rural Shropshire set to open later this year.
He has also working on his very own book titled "Wild Shropshire" based on the wild food focus of his ingredients and passions which will feature in his restaurant.
This hardback book contains 200 pages of ideas, recipes and ethos behind the restaurant. All combined with photography by Natalie Moore.
WIN: All purchases will be entered to win a £100 GourmetXperience Gift Certificates for two, with James once he re-opens, with a signed copy of his book.
Or sign up to our Free Foodie Club newsletter to enter.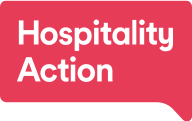 10% Donation to industry charity Hospitality Action.
We will donate £2 of every book order to our national appeal 'Love Greatest British Hospitality'.